What is Missional?
Jesus told us to go into the entire world and be his ambassadors, but many churches today have inadvertently changed the "go and be" command to a "come and see" appeal. We have grown attached to buildings, programs, staff and a wide variety of goods and services designed to attract and entertain people says Rick Meigs.
A portion of our mission offerings are allocated to the following churches and ministries that Dr. Ethan W. Ogletree Sr. along with the New Destiny Praise and Worship Center family are honored and privileged to partner with in covenant relationships for kingdom advancement.
Pastors Raul & Miracle Tijerina of Iglesia Cristiana Palabra Viva #7, Houston, Texas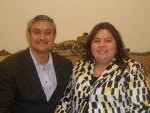 Evangelist Bobbi Miller, Maween House, Thika, Kenya, East Africa


Maween House is a ministry to orphans and destitute children between the ages of 3 – 7 years (intake age) located in Thika, Kenya. Children remain at Maween House until adulthood when they graduate from high school or trade school. The ministry provides everything for the children including healthcare and a home environment. There are currently 5 children in the home now with many on the waiting list. Evangelist Miller is a licensed minster and is involved in providing other evangelism and mission activities in the Thika community.