Dr. Ethan W. Ogletree Sr. – Senior Pastor and Founder
 New Destiny Praise and Worship Center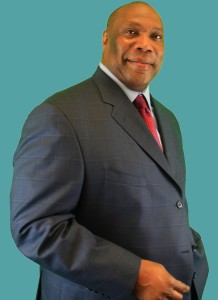 Pastor, Dr. Ethan W. Ogletree Sr. is a passionate, loving, and generous leader whose teachings, lectures, illustrations and sermons appeal to people of all ages,  races, denominations and economic statuses. His former life experiences of homelessness and drug addiction have proven to be effective in reaching the  younger generation by delivering soul stirring messages of hope, reconciliation and restoration through Jesus Christ.
Dr. Ogletree is no stranger to ministry. For more than ten years, he faithfully served at First Metropolitan Church, Houston, Texas as Minister of Education  and at The Church Without Walls, Houston, Texas, as Minister of Recreation and Evangelism.
Sensing a call and movement of God, Dr. Ogletree developed the vision and mission of New Hope Community Church in late 1999. On February 27, 2000, the  first meeting was held and 19 core members embraced the vision for the church. Then, on June 4, 2000, New Hope Community Church held its first service.
Over the past decade, Dr. Ogletree has witnessed the growth in the congregation both spiritually and numerically. Dr. Ogletree has taken members and friends of New Hope to sites in Central America, Europe and the Middle East.
Under his leadership, Dr. Ogletree has:
Established thriving and vibrant ministries
Led New Hope's building campaign which increased the current facility to 18000 square feet.
Served on the board of directors for Trinity Pines Resort.
Founded and serves as the Chairman of the Board and CEO of The City of Refuge of Houston, Inc., a 501(3) (c) Community Development
As New Hope Community Church celebrated its 10th year of serving the kingdom of God, the vision continued to unfold as the Church's Just Imagine Capital Campaign entered the second year of preparing the Church to build a 1200 seat sanctuary, with future plans to include a senior living facility, an office park, health clinic and
credit union.  In July 2010, Dr. Ogletree led a group of 19 members and friends on a ten day tour to Jerusalem, the first of many cultural tours to elevate and educate members to life outside the United States.  Dr. Ogletree led a second tour group to the countries of Jordan and Israel in June 2011.
In 2011, Dr. Ogletree began to sense that God was leading the Church in a new level of worship and impact upon the community that would result in changing the culture of the Church. This change in the nature and character would result in a change to New Hope's name.  In January 2012, Dr. Ogletree revealed that the Church's new name would be New Destiny Praise and Worship Center.  As New Hope Community Church we provided Hope for many people, but now it's time for a new destiny and worship for our Most High God. New Destiny is setting the atmosphere for leading the people of God into his presence.  There is excitement over miracles that God is working in our fellowship as we are witnessing to the supernatural move of God.
Dr. Ogletree earned his Doctor of Ministry from the Houston Graduate School of Theology. He holds a Master of Divinity from the Houston Graduate School of Theology and a Bachelor of Science degree from Regents College of New York.
Dr. Ogletree is  a member of the Potter's House International Pastoral Alliance (PHIPA) under the leadership of  Bishop T. D. Jakes. PHIPA is a multicultural fellowship of economically diverse coalition of Christian pastors that recognize the need for covenant fathering.  He is happily married to Dr. Pamela Ogletree and has two sons and a daughter, Ethan Jr.,  J'Von and Jasmine.
At New Destiny, we believe that God is AWESOME!
Click here to view Dr. Ogletree's Preaching Promo
DR. OGLETREE'S PREACHING ITINERARY
March 12, 2017 @ 4:00p
Burrell Chapel Baptist Church
Rev. Lynn Phipps, Pastor
190 Burrell Chapel Road
Angleton, TX 77515
March 19, 2017 @ 4:00p
Sunlight Baptist Church
Rev. Russell Hutchinson Jr., Pastor
6319 Laura Koppe Rd.
Houston, TX 77016
April 22 & 23, 2017
Mount Neboh Baptist Church
Dr. Johnnie M. Green Jr., Senior Pastor
1883 Adam Clayton Powell Jr. Blvd.
New York, NY 10026
July 24 – 29, 2017
Jamaican Mission Trip
Pastor Phillip Moses
September 17, 2017 @ 8:00a & 10:30p
Fellowship Missionary Baptist Church
Dr. Dennis G. Dunn, Senior Pastor
8550 Saul Bell Road NW
Albuquerque, NM 87121
October 22, 2017 @ 3:30p
A Labor of Love Christian Fellowship Church
Dr. Alvin W. Gills, Pastor
240 East House St.
Alvin, TX 77511
October 28, 2017 @ 5p
Upper Room Prayer Ministry
Ministers Donald and Gwen Lee-Page, Hosts
Crown Plaza Northwest Hotel
12801 Northwest Freeway
Houston, Texas
October 29, 2017 @ 10:30a
The Word of God Christian Fellowship Church
Rev. Erick W. Hoskin, Pastor
17920 Huffmeister Rd., #310
Cypress, TX 77429
November 19, 2017 @ 7:45a
First Metropolitan Church
Dr. John D. Ogletree Jr., Senior Pastor
8870 W. Sam Houston Parkway North
Houston, TX 77040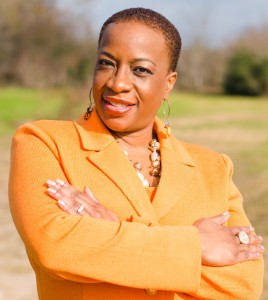 First Lady Dr. Pamela Ogletree
Dr. Pamela Ogletree is a sincere and inspiring woman who is always excited about the move of God. Her caring nature reflects an encouraging personality that warms the hearts of those who come in contact with her. She is a firm believer in Jesus Christ as a redeemer, rescuer and restorer regardless of  past or present situations. Her message is one of God's love and grace and His desire to be close to all of his children.
Pamela often testifies of how she had minimal church exposure growing up. It wasn't until the mid-1980's when she found a tract in the laundry room of  her apartments that she gave her life to Christ. Kneeling beside her bed that night and all alone, she tells of how her conviction came with a true understanding of sin and who God really is. Since then it has been her passion to evangelize others into that same knowledge.
First Lady Pamela became aggressive in her faith walk by actively serving in ministry. She eventually became the co-director of new members at  Brookhollow Church (The Church Without Walls) which had a church membership of over 8,000 at that time. In February 2000,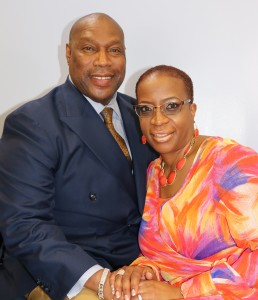 Pamela co-founded New Hope Community Church (now New Destiny Praise and Worship Center) with her husband, Dr. Ethan W. Ogletree Sr., having its first service on June 4th of that same year. Pastor and First Lady Ogletree led the church's  growth from 19 members meeting in their living room, to 200 members meeting at Shotwell Middle School to now over 1,200 members meeting in their current facility. First Lady Pamela, the current Director of Education at New Destiny, accepts and embraces the Holy Spirit's gift of teaching and making God's word exciting and practical for life transformation. With a favorite saying of "No one knows a sistah like a sistah".
Dr. Pamela Ogletree holds a Bachelor of Science degree in Psychology from the University of Houston, a Masters of Education from Prairie View A&M University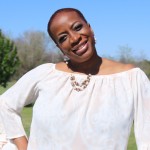 and a Doctor of Philosophy in Psychology and Christian Counseling from Louisiana Baptist University. She is a licensed professional counselor in private practice, as well as currently employed as a school counselor.  Pamela has served in education for over fifteen years as a special education teacher and school counselor. First Lady Pamela believes that the essence of a fruitful spiritual life is constant growth and change.