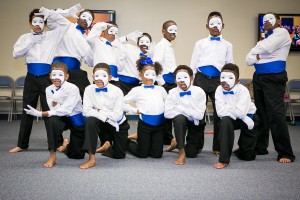 Self-expression, an art or form of communication.  Communication that exchanges ideas, thought, images, and emotions between performer and the audience.  Mime is movement that expresses thought – simple or complex.  Mime is silent by choice and by design.  Mime is free – often confusing.  The art of mime is universally understood by people throughout the world, no matter what language they speak.
Communication in mime exists beyond written and spoken language
In mime there is only "show" – no "tell".
Mime involves creativity and control of time, space and energy.
Time – The dimension of the relationship between experiences.  A mime performer can show passage of a few seconds or of a lifetime with a simple gesture.  In its pure form, mime is expressed only through the movement and gesture of the body.
Space – The dimension of the relation between things, real or imaginary.  Mime can define space through simple illusions to show the universe or only a small part of it.
Energy – Motion is change, and change is constant.  Because time, space and energy are limitless, there is virtually no limit to what the mime performer can do.
Through the control of the Holy Spirit, the performer can make the most difficult activity seem simple and easy and make the simplest activity appear to be difficult.