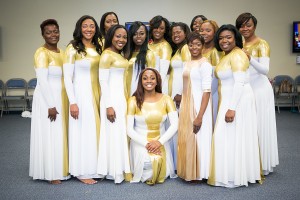 The purpose of the dance ministry is to add to the worship experience by leading, encouraging, uplifting and ministering to the congregation through dance while creating an environment that welcomes the presence of God to abide.
Dance in the church is no longer a thing of the past. In today's society many churches are starting dance ministries for all ages and skill levels. They are even incorporating dance into their Sunday morning services. Dance is being utilized in Christian conferences, seminars, and ceremonies, as well as Christian concerts and music festivals. Several Christian schools and home school associations are now offering dance as part of their curriculum. Professional Christian dance companies can now be found in many states, as well as internationally.
Dance within the Body of Christ has been given many titles such as worship dance, liturgical dance, sacred dance, Christian dance, and interpretive dance. However the motivation for the movement remains the same: to point to Jesus Christ as our Lord and Savior. Other world religions use the title "Sacred Dance" to describe their cultural and ceremonial dances. The title "Interpretive Dance" is most often used in colleges and universities as related to the genre of modern dance. The "Liturgical Dance" title is linked to Christianity itself and is often viewed in the Liturgy of specific denominations.